Rodger and Georgina's Web Site
News Page
---
A round up of some of the things we have been doing lately

July - 2002
Well it seems like ages since we added anything to this page (3 months in fact). So what have we been up to since February. Yes we're still alive & well - just seem very busy, busy......gardening, work, golf, work, hockey, work, etc,work. In fact just too much $#%$%$ work. And this is supposed to be the year when we resolved to do less $#$%$%. It's 8.30 pm and we're in separate rooms banging away (unfortunately on computer terminals!!!) it's a good job that we both enjoy our jobs.

George is now working full time as a "Calming & Restraint" instructor/co-ordinator at her new office while Rodger has a new class this year who are a delight - keen, polite, quiet (very different from last year!!)

In March Rodger went off to Christchurch for the NZ Masters Hockey Tournament, a week of chasing a little white ball around - bit like full body contact golf - same end result - little white ball into hole. Unfortunately someone decided that he needed slowing down and broke his big toe a week before he went away.

In April we went to the Gold Coast for a week at Coolangatta - We went to a timeshare presentation and the "gift" was a week at a hotel. What they didn't mention was that it could not be taken during school holidays!!!! When the boy mentioned this to the Principal she said "no worries Rodger, take the time off - you deserve it", got to love that place (they've already given him a week off to go down to Christchurch for the hockey) - perhaps they're glad to get rid of him for a couple of weeks. Anyway we had a freebie holiday - using up the last of our air miles (also received a voucher from United for car rental) so just need s pending money for golf and the sh------ word. Are things really cheaper when you go on holiday or is it just a mind thing? Most probably just have more time to look around for bargains!!!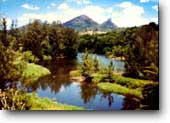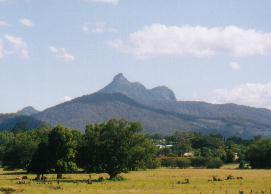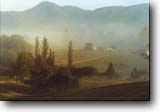 Towering over the Tweed Valley is Mount Warning., the central core of the Southern Hemisphere's largest extinct shield volcano. Named "Wollumbin", meaning "cloud catcher", by the Bundjalung people who inhabited the region before European settlement, it is the first place on Australia's mainland to be touched by the morning sun. A climb to the summit to watch the day dawn is a must for the adventurous.


Well after reading that we just had to give it a go! Fantastic views from the summit but one tough climb - felt really chuffed as we struggled down from the top, only to be humbled by family group with 3, 6 & 11 year olds passing us on their way to the top!!


Needless to say the time share company had another go at us while we were staying at the hotel - but we managed to hold them off. Then on the plane home, looking through the New Zealand Herald we read how the self same company is being prosecuted for giving false information about their time shares and misleading clients - phew! - a close one!


Golf is going pretty good, Rodger had an 81 last weekend! he'd been playing crap golf up till then and his handicap went to 17 - then played in his Club opening day in Canadian foursomes and played a blinder with all those shots. His team ended up winning - He had to empty my pockets to be checked for sand in the clubhouse later. Since then been in a couple of competitions - noticed that the handicap is dropping faster than value of the NZ dollar.


Rodger's sporting endeavours however have come to a crashing end... He decided to pack up Saturday hockey and play on Sundays so that he could continue to play golf on the Saturday. First game out on Sunday he ended up getting his thumb broken and is waiting to see whether they will operate and put in a plate. So no hockey or golf for a while - looks like he might have to get out the snooker cue and spend a few hours down the Club on a Saturday. He did ask the doctor to make sure that if it couldn't be fixed to break his thumb and reset it in a club holding position!


It's the beginning of Winter here, the weather is a bit more changeable but still not too cold, finally getting good doses of rain which will do wonders for the garden. There's a real Autumn feel with all the leaves on the ground, but still lots of colour in the garden with the rhododendrons,hibiscus, proteas and camellias coming into blossom.


Click HERE to go back.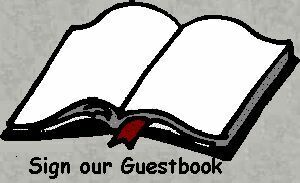 Go to top of page
Welcome
Home&Garden
New Zealand
Diving
Cayman
Family
News
Night Sky
Links
Photos